Docetaxel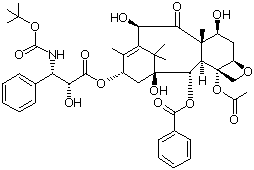 Product Name: Docetaxel
CAS No.: 114977-28-5
Chemical name: N-debenzoyl-N-tert-butoxycarbonyl-10-deacetyl taxol; Taxotere

Molecular Formula:C43H53NO14
Molecular Weight:807.88
Specification:
Appearance: A white to pink crystalline.
Assay: °›99%
Water: °‹1%
Heavy metals: °‹20ppm
Pakage: 1kg or 5kg Aluminium tin
What is this medicine used for

This medicine is used to treat a variety of skin conditions: contact dermatitis, atopic dermatitis, eczema, lichen planus, bug bites, burns, psoriasis, severe diaper rash, chronic discoid lupus erythematosus, alopecia areata, mycosis fungoides, dermatophyte and fungus (yeast) infections. There may be other skin conditions not listed here.