Forchlorfenuron (KT-30)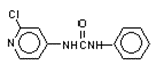 Product Name : Forchlorfenuron (KT-30)

Cas No: [68157-60-8]

Structure Formula :

Specification:

Appearance: White crystals

Content: 98%

Mp.: 171-173°"C

Loss on drying: <0.5%

Residue on ignition: <0.1%

Description

Chemical Name:

Forchlorfenuron

Toxicology:

Acute oral LD50 for male rats 2787mg/Kg,female rats 1568mg/Kg,male mice

2218mg/Kg,female mice 2783mg/Kg;acute dermal LD50 >2000mg/Kg. Irritating to skin

and eyes. Acute inhalation LC50 (4hr):no mortality under exposure to saturated

vapor,NOEL dose 7.5g/Kg. LC50 for fish:rainbow trout (96hr) 9.2mg/L, carp (48)

8.6mg/Kg.

Application:

Plant growth regulator with cytokinin activity. The bioavailability of KT-30 is

10-100 times of that of 6BA. It is widely used in agricluture, horticulture and

fruit. It can promote cell division and expansion, enlarge fruit, increase crop

yield, etc.