Mometasone Furoate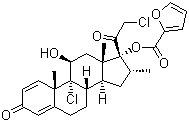 Product Name : Mometasone Furoate
CAS No.: 105102-22-5 (Base)
83919-23-7 (Furoate)
Molecular Formula:C27H30Cl2O6
Molecular Weight 521.44
Chemical name: 9-Chloro-17-(2-chloroacetyl)-11,17-dihydroxy-10,13,16-trimethyl-6,7,8,11,12,14,15,16-octahydrocyclopenta[a]phenanthren-3-one furoate
Specification:
Appearance: A white to pink crystalline.
Assay: °›99%
Melting point: 219°ś
Water: °‹1%
Heavy metals: °‹20ppm
Pakage:1kg, 5kg Aluminium tin
What is this medicine used for

Corticosteroid is a synthetic or naturally occurring 21-carbon steroid structure substances with four fused rings and vary functional branches attached to the ring system. Cholesterol and steroid hormones have this carbon skeleton. The term steroid refers to these three groups that contain a hydrogenated cyclopentano perhydro phenanthrene ring system. In restricted context for medical usage by non-endocrinologists, it refers to corticosteroids. Natural corticosteroids are elaborated by the adrenal cortex in response to physiological carbohydrate metabolism. According to their predominant biologic activity, they are divided into two major groups: glucocorticoid and mineralocorticoid. Glucocorticoid's chief function is to regulate carbohydrate, lipid, and protein metabolism and inhibit the release of ACTH (adrenocorticotropic hormone). Glucocorticoids also affect muscle tone and the microcirculation, participate in the maintenance of arterial blood pressure, increase gastric secretion, alter connective tissue response to injury, impede cartilage production, inhibit inflammatory, allergic, and immunologic responses, invoke shrinkage of lymphatic tissue, reduce the number of circulating lymphocytes, and affect the functions of the central nervous system. In humans, the most important ones are cortisol, cortisone, and corticosterone. Mineralocorticoids, uniuqely aldosterone in human, regulate the balance of water and promote retention of sodium, loss of potassium. Aldosterone plays a role also in promoting tissue repair. Spironolactone is the aldosterone antagonist called potassium-sparing diuretic used in the treatment of hypertension. Corticosteroids are used in clinically for hormonal replacement therapy, for suppression of ACTH, as antineoplastic, antiallergic, and anti-inflammatory agents, and to suppress immune responses.